THE COURSES OF COLORIMETRY
Know and manage the color
URAI offers a program of colorimetry courses on different levels, suitable for laboratory technicians and professionals. The various levels of the course use electronic and optical instrumentation and equipment to satisfy both practical and theoretical knowledge of the subject.
Upon request, URAI also organizes individual or group courses on specific topics, including at the operating locations of its partners.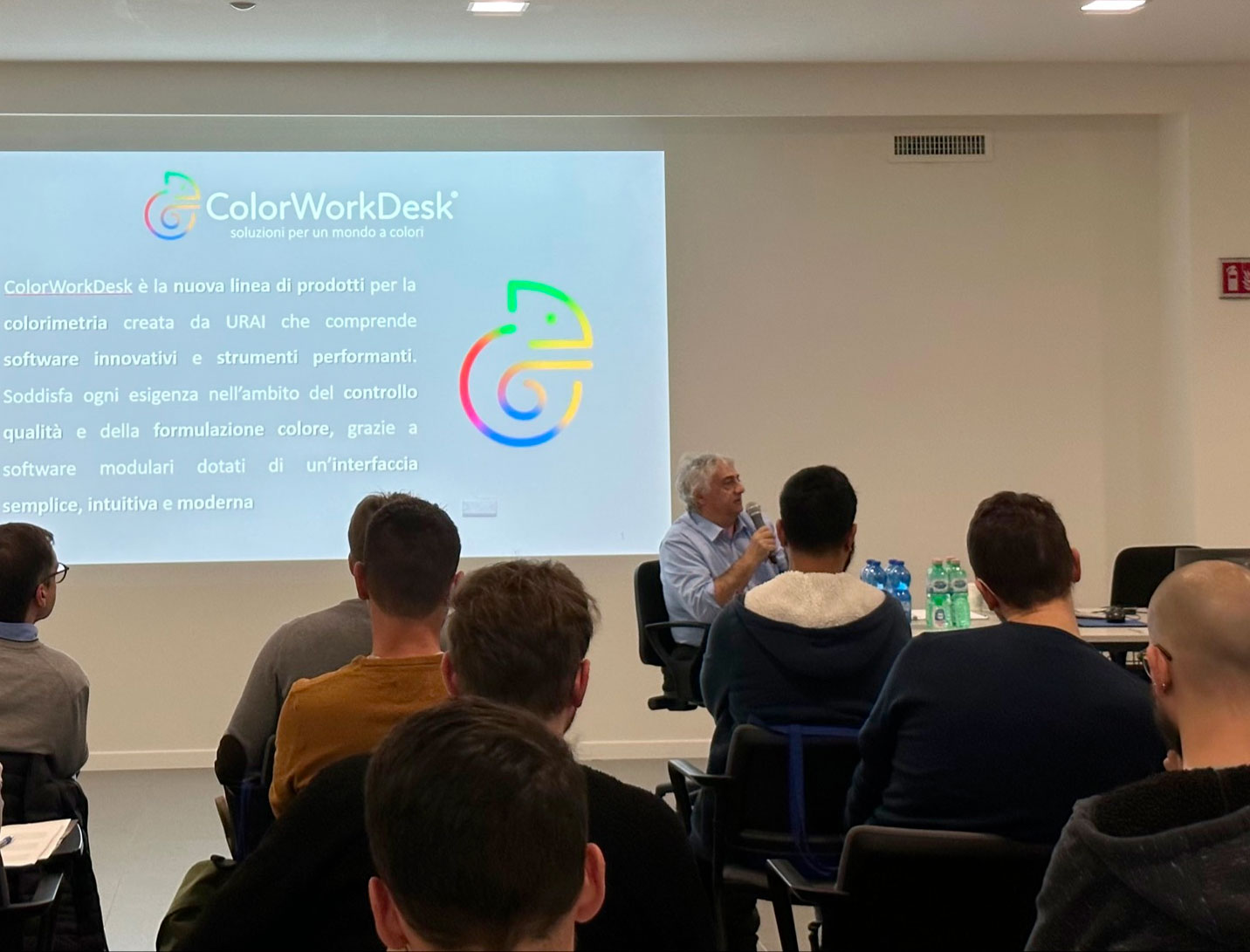 A complete training path
Color measurement

The day is dedicated to the deepening of color theory, a fundamental basis for starting the path of approach to colorimetry.

Notions of optics
Fundamental elements that characterize the color
Light behaviour in contact with materials
Spectral curve as index of behaviour
Construction of a spectral curve and its usefulness
Examples of spectral curves
Spectrophotometers (geometries)
Transmission (hints)
Measurement technique and calibration of spectrophotometers
Spectral curves of fluorescent materials
Metamerism (causes, effects and methods to quantify it
Definition and methods to characterize Illuminants and Observers
Tristimulus values
Chromaticity diagram CIE 1931
Use of CIE 1931 chromaticity diagram
CIE indices (White)
Jettness (depth index)
Mathematical conversions of tristimolus values in the CIELab space
Cartesian and polar coordinates in CIELab space
Indices of tone and saturation

Quality control and use for color correction

The day, including theoretical and practical activities, concerns the Quality Control in colorimetry and color correction methods.

1 Part. (Theoretical foundations of color)

Cielab color space (hints)
Metamerism (practical aspects)
Pass / Fail control, definition of acceptable tolerances
Using QC for color correction

Part 2. (Practical tests using SW QC and reflective spectrophotometer)

Measurement methodologies
Choosing the right methodology for business purposes
Standard setting
Management of color archives
Color differences with rating in Lab, lch, DE.
Production history
Practical use of color tolerances
Exercises with a spectrophotometer
Conclusion and comments

Instrumental construction of the color

The day is reserved for those who have already achieved a good experience and want to update themselves on the management of color formulation, through the use of Color Matching software.

Additive and subtractive theory of the materials that generate the sensation of color
Dyes and pigments in industry
Use of transparent or scattering vehicles
Ideal number of dyes in formula
Choice of dyes according to a standard
Methods for building a formula (color)
Formulation (color) of dyes in glossy and matt form
Kubelka Munk theory ( Functions )
Formulation software (Learning, formulation and correction procedures)
Practical verification of dye or vehicle yield (bases)
Conclusion and comments
Course information
WHERE?
The group courses are held in the course room of the URAI Assago (via G. Donizetti, 14)
Individual or group courses for specific topics can be arranged upon request. All this can be arranged at our headquarters or at your operating locations.
CERTIFICATE
A paper certificate of course attendance is issued.
All teaching material is issued in paper form in the form of handouts.
USEFUL INFO
During the course there will be coffee breaks and lunch breaks for all students.
In front of the course you will find parking spaces reserved for students.
Do you want information about our courses?
Write to us and we will contact you as soon as possible